By: Jacqueline Gomes, RDN, MBA
June 6th, 2019
Do you ever feel like you're constantly on the go and something is lacking in your diet? It could be protein! Most high-protein foods are typically not "take-away-friendly," but there are ways around this dilemma. Think of high-fiber, high-protein carbohydrates, like nuts and seeds or dairy foods like yogurt, cheese and protein drinks.
Protein is essential for the following functions:
Muscle and tissue repair
Energy-yielding
Bacterial-fighting Antibodies
Electrolyte balance
Nutrient Metabolism, Transport and Storage
Regulation of Hormones
If you find yourself running low on protein fuel, here is a list of portable foods and that will give you that much needed boost on the go!
Almonds, peanuts, soy nuts
Bran muffin or high protein cereal
Greek yogurt
String Cheese
Peanut butter bars
Hard-boiled egg
Edamame
Ready to drink protein drink like Organic Valley® Balance Shakes – packed with 16 grams of protein and 40% of your daily calcium into each bottle with no artificial sweeteners. It's perfect for breakfast or a light meal on-the-go.
---
Pumpkin Pie Overnight Oats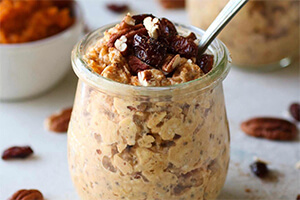 Oatmeal isn't just for breakfast! Pack these overnight oats into an insulted container, or lunch box with ice pack, for a hearty lunch.
Prep: 5 minutes
Makes: 2 Servings
Ingredients:
1 cup old-fashioned rolled oats
½ cup pumpkin puree
1 tbsp flax meal or chia seeds (or ½ tbsp. of each)
Pinch of salt
¾ cup Organic Valley® Balance Shakes in Vanilla
1 tbsp pure maple syrup
2 tsp pumpkin pie spice
2 Tbsp each Toasted almonds and dried cranberries for topping
Directions:
In a bowl, whisk together rolled oats, Organic Valley® Balance Shake, pumpkin puree, pure maple syrup, flax meal or chia seeds, pumpkin pie spice and pinch of salt.
Divide into two jars.
Seal jars and refrigerate for at least 4 hours or overnight.
Add toppings just before eating.
Recipe modified from: Organic Valley