Memorial Day Grilling & Chillin
By: Jacqueline Gomes, MBA, RDN
May 24th, 2019 
It's time to kick off grilling season with Memorial Day! Choosing fresh and natural ingredients will make your dishes stand out. Grilling is a versatile cooking method everyone can enjoy!
Aidells Sausages and meatballs are made with all-natural ingredients combined in deliciously unexpected ways. The gluten-free Spicy Mango Jalapeno will wow your guest with big flavor.
Lean protein, such as lean beef and poultry, provide essential nutrients to fuel activity and are delicious on the grill.
Vegetarian? No problem, grill firm or extra firm tofu on a well-greased grill grate.
Getting started…
Use a glass dish or a plastic bag to marinate meats, fish, poultry or vegetables.
The oil in a marinade is needed so the spices and seasonings adhere to the meat. Because the leftover marinade is discarded, only a small amount of oil remains on the meat as it cooks.
Beef and pork can be marinated overnight and chicken for several hours. However, when marinating fish steak such as tuna, salmon, swordfish and halibut, 20 to 30 minutes is usually sufficient.
Try a combination of herbs such as thyme, chives, rosemary, and parsley to complement grilled vegetables.
Meat should be fresh or completely thawed before cooking for proper flavor and even cooking.
Easy to Eat Well Tip: About 36 percent of food-borne illness in the home results from "cross-contamination". That means contaminated cutting boards, counters or utensils are not properly disinfected or sanitized before preparing foods eaten raw, such as fruits and vegetables.
Source: American Society of Microbiology. www.asm.org
---
Sausage & Pineapple Skewers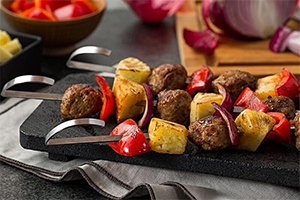 Prep: 15 minutes
Cook time: 10 minutes
Makes: 4 servings
Ingredients: 
1 pound Aidells Chicken & Apple Sausage, cut into 1 inch pieces
1 red pepper, cut into 1-inch chunks
1 red onion, cut into 1-inch chunks
2 cups pineapple chunks
8 wooden or metal Skewers
Directions:
Thread the sausage and pieces of pineapple, peppers and onion on skewers.
Grill covered on greased grill over med-low heat 8-10 minutes, or until hot, turning frequently for even browning. Serve immediately.
Recipe adapted from: Aidells®