By: Jacqueline Gomes, RDN, MBA
June 1st, 2018
Do you ever feel like you're constantly on the go, then something might be lacking in your diet? It could be protein! Most high-protein foods are typically not "take-away-friendly," but there are ways around this dilemma. Think of high-fiber, high-protein carbohydrates, like nuts and seeds or dairy foods like yogurt and cheese.
Did you know?
Your organs, tissues, muscles and hormones are all made from proteins?
High Protein foods have a number of health benefits including weight loss and maintenance, building muscle and helping your body build and repair tissue. You can find the power of protein right at our shelf with our Eat Well tags which identify products that are a good source of protein!
Protein is essential for the following functions:
Muscle and tissue repair
Energy-yielding
Bacterial-fighting Antibodies
Electrolyte balance
Nutrient Metabolism, Transport and Storage
Regulation of Hormones
Protein Foods list:
Fish such as tuna, salmon, cod, flounder, etc.
Poultry, pork, beef
Almonds, peanuts, soy nuts
Greek yogurt
Milk, Cheese & yogurt
Nuts & Nut butters
Eggs
Beans & legumes
Edamame
Ready to drink smoothie
---
Oven Poached Salmon Fillets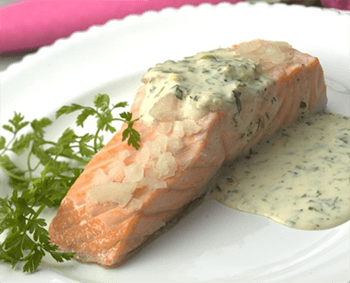 Total time: 30 minutes
Ingredients:
1 pound salmon fillet, cut into 4 portions, skin removed, if desired
2 tablespoons dry white wine
¼ teaspoon salt
Freshly ground pepper, to taste
2 tablespoons finely chopped shallot, (1 medium)
Lemon wedges, for garnish
Directions:
Preheat oven to 425°F. Coat a 9-inch glass pie pan or an 8-inch glass baking dish with cooking spray.
Place salmon, skin-side (or skinned-side) down, in the prepared pan. Sprinkle with wine. Season with salt and pepper, then sprinkle with shallots. Cover with foil and bake until opaque in the center and starting to flake, 15 to 25 minutes, depending on thickness.
When the salmon is ready, transfer to dinner plates. Spoon any liquid remaining in the pan over the salmon and serve with lemon wedges.
Recipe: EatingWell.com