Memorial Day Grilling & Chillin'
By: Jacqueline Gomes, MBA, RDN
It's time to kick off grilling season with Memorial Day! Start the summer off on the right foot by making sure your first barbecue is ready for your whole family to enjoy.
First things first…
Use a glass dish or a plastic bag to marinate meats, fish, poultry or vegetables.
The oil in a marinade is needed so the spices and seasonings adhere to the meat. Because the leftover marinade is discarded, only a small amount of oil remains on the meat as it cooks.
Beef and pork can be marinated overnight and chicken for several hours. However, when marinating fish steak such as tuna, salmon, swordfish and halibut, 20 to 30 minutes is usually sufficient.
Try a combination of herbs such as thyme, chives, rosemary, and parsley to complement grilled vegetables.
Meat should be fresh or completely thawed before cooking for proper flavor and even cooking.
What else can we Grill?
Fruit!! The heat intensives the sweetness in the fruit by caramelizing the sugars and this process actually brings out the juices in fruits like peaches, plums and pineapples. When you think about what fruits to grill, choose fruits that are ripe but firm, firm fruits will hold their shape when heated.  
Some of my favorites include: Plums, peaches, apples, pears, pineapple, bananas and figs!  Tip: Make sure you clean your grill thoroughly; no one likes steak-flavored peaches!
Eat Well Tip: About 36 percent of food-borne illness in the home results from "cross-contamination". That means contaminated cutting boards, counters or utensils are not properly disinfected or sanitized before preparing foods eaten raw, such as fruits and vegetables.
Source: American Society of Microbiology. www.asm.org
---
Quick Beef Fajitas with Pico de Gallo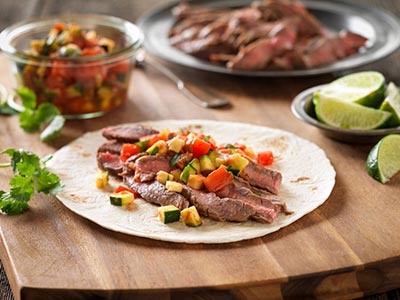 Marinate Flank Steak overnight in lime juice and garlic, then chop up a zesty Pico de Gallo while the beef is on the grill. Be sure to slice steak against the grain for max tenderness. 
Ingredients:
1 beef Flank Steak (about 1-1/2 pounds)
12 flour tortillas (6-inch diameter), warmed
Marinade:
2 tablespoons fresh lime juice
2 teaspoons vegetable oil
2 teaspoons minced garlic 
Pico de Gallo:
1/2 cup seeded chopped tomato
1/2 cup diced zucchini
1/4 chopped fresh cilantro
1/4 cup prepared picante sauce or salsa
1 tablespoon fresh lime juice
Directions:
Combine marinade ingredients in small bowl. Place beef Flank Steak and marinade in food-safe plastic bag; turn to coat. Close bag securely and marinate in refrigerator 6 hours or as long as overnight, turning occasionally.
Combine Pico de Gallo ingredients in medium bowl.
Remove steak; discard marinade. Place steak on grid over medium, ash-covered coals. Grill, covered, 11 to 16 minutes (over medium heat on preheated gas grill, 16 to 21 minutes) for medium rare (145°F) to medium (160°F) doneness, turning occasionally. Carve across the grain into thin slices. Serve in tortillas with Pico de Gallo.
Recipe: BeefitswhatsforDinner.com  
---
Simply Grilled Pineapple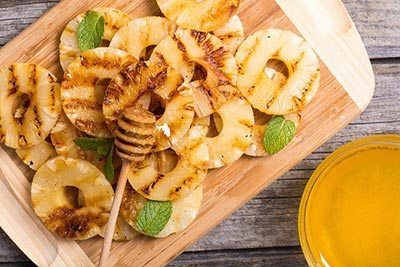 Ingredients:
1 fresh pineapple – peeled, cored and cut into 1 inch rings
1/4 teaspoon honey
3 tablespoons melted butter
1 dash hot pepper sauce
Directions:
Place pineapple in a large resealable plastic bag. Add honey, butter, hot pepper sauce. Seal bag, and shake to coat evenly. Marinate for at least 30 minutes, or preferably overnight.
Preheat an outdoor grill for high heat, and lightly oil grate.
Grill pineapple for 2 to 3 minutes per side, or until heated through and grill marks appear.