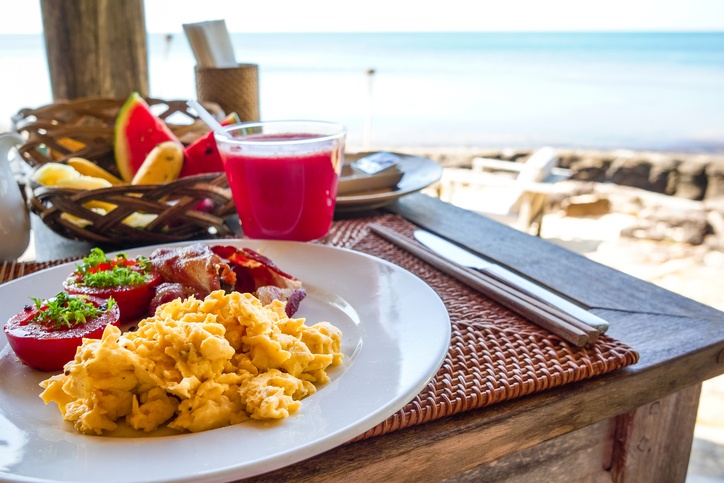 It's a fact: a summer vacation can be expensive. Between the cost of hospitality, travel, and daily activities, it's very easy to go over budget. That's why It's Smart! to do a little planning before your departure. As you pack your suitcase and plan your excursions, consider adding meal planning to your checklist. By planning meals ahead of time, incorporating them into your itinerary, and opting to cook some meals yourself, you'll be able to better manage your food expenses while away. Not sure where to start? Your local Foodtown grocery store is here to help!
Vacation Meal Planning… That's Smart!
There are several simple steps for planning meals throughout your vacation. No matter your destination—whether it be the Jersey Shore, the mountains of upstate New York, or even across the country, planning your meals in advance is a great way to stay on budget. Follow these steps…
Create an Itinerary
Making an itinerary not only works up excitement for your getaway but it also helps your family stay on budget by avoiding unplanned spending. In addition to planning daily activities, make a list of any must-visit restaurants or food destinations. Figure out which day you'll visit that acclaimed creperie for breakfast, that small local bistro for lunch, or that 5-star seafood restaurant for dinner. Also factor in any meals that may be included in excursions, such as a picnic lunch that might be provided on a walking tour you've already scheduled.
Plan Some Homecooked Meals
After you've created your itinerary, make a note of any days that may have "open time" for breakfast, lunch, or dinner. With your family, select a few simple meals that don't require too much prep work. Then, list any ingredients you might need to purchase. You should also make a list of some snacks you might bring along—granola bars for your day of hiking, fresh fruit for a beach day snack, for example.
Go Shopping
Depending on where you're going and how you're getting there, you might choose to get some groceries beforehand, at the Foodtown grocery store that you already love. If you won't have the ability to travel with groceries, research some local supermarkets before you leave to alleviate the stress of finding one in an unfamiliar area.
Simple Vacation Meal Ideas
Fortunately, there are plenty of easy meals that can be made with just a few ingredients. Consider these options for your "open meals":
Grilled Cheese and a Favorite Soup
Tacos—prepackaged taco kits make this a very simple meal… just pick up whatever filling you'd like
Pita Pizza—Pita bread travels well, as does a jar of pizza sauce. Just add a sprinkle of cheese!
Sandwiches—you can't go wrong with classic peanut butter and jelly or deli meats and cheeses
Hot Dogs and Hamburgers
Quesadillas
Summer Vacation Made Simple with Help from Foodtown Supermarkets
At Foodtown, we love helping our customers save money on groceries by offering plenty of ways to save. While vacation meal planning, don't forget to take advantage of the savings found in our Weekly Circular or download our digital coupon app to have more spending money for other things—like souvenirs!
Located a Foodtown supermarket near you for grocery shopping that suits your family's budget. While you're busy planning your vacation, take advantage of Foodtown On the Go for time-saving online shopping for in-store pickup or home delivery.