Naturally Gluten Free Holiday Celebrations
By: Jacqueline Gomes, RDN, MBA
Here come the holidays. Are you ready to handle them gluten free? Whether it's your first gluten-free celebration or you're a seasoned gluten free host, we're here to help get you through smoothly. For one, entertaining for gluten free guests has gotten progressively easier. With an abundance of new and improved gluten free items on the shelves combined with naturally gluten free foods you'll be sure to serve a successful and delicious holiday meal.
Eat Well tip: A gluten-free diet is free of all forms of wheat, rye, barley, and some oats. When using oats be sure to select brands labeled "gluten-free".
What to serve to Gluten Free Guests:
Appropriate side dishes include potatoes, quinoa and rice. All fruits and vegetables are naturally gluten free so be sure to have an abundance of these available for your guests. In addition, proteins such as meats, poultry, fish, nuts and eggs are also safe for your gluten free guest. Always be mindful of cross-contamination; never use the same kitchen utensil from a gluten containing food in a gluten-free food.
Gluten Free Desserts
Tasty selections for dessert include: candied nuts, baked apples, rice-marshmallow treats, and chocolate covered strawberries. You may also purchase gluten-free cake mix for cupcakes and other cake based desserts! Check out the recipes below for some seriously tasty treats!
Find your nearest Foodtown grocery store to stock up on everything you need for the week. Be sure to download our digital coupons to take advantage of ongoing savings!
---
 Coconut Macaroons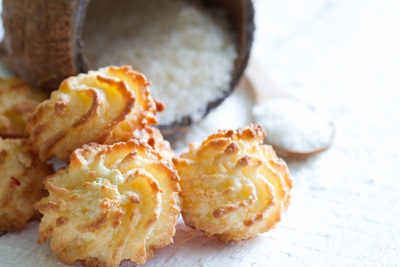 Makes about 24 cookies
Ingredients:
3 cups sweetened, shredded coconut
4 large egg whites
1/2 cup sugar
1 teaspoon vanilla or almond extract (see Additional Notes)
1/4 teaspoon salt
Equipment:
Baking sheet
Silpat or parchment paper
Mixing bowl
Whisk
Mixing spoon
Directions:
Preheat the oven to 350°F: Place an oven rack in the bottom third of the oven and preheat to 350°F. Gather all your ingredients and equipment.
Toast the coconut (optional): For deeper coconut flavor and extra-crispy macaroons, spread the coconut on the baking sheet and toast for about 5 minutes, or until just barelystarting to show some color. Let cool slightly before using.
Whisk the egg whites, sugar, vanilla, and salt: Combine the egg whites, sugar, vanilla, and salt in a mixing bowl. Whisk until the whites and sugar are completely combined and the mixture is frothy.
Combine the coconut and egg white mixture: Pour the coconut over the egg white mixture and stir until the coconut is evenly moistened.
Shape the macaroons: Line the baking sheet with a silpat or parchment. With wet hands to prevent sticking, shape the coconut mixture into small balls about 1 1/2-inches in diameter. Space them an inch or so apart on the baking sheet.
Bake the macaroons for 15 to 20 minutes: Bake the macaroons until golden, 15 to 20 minutes.
Cool the macaroons: Let the macaroons cool on the baking sheet for 5 minutes, then transfer to a wire rack to cool completely. Macaroons can be kept in an airtight container for up to a week.
---
Super Moist Gluten-Free Banana Bread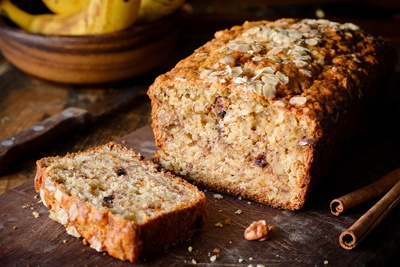 Banana bread can easily transition from breakfast to snack to dessert! Remember to always use very ripe bananas for the sweetest banana bread.
Ingredients:
2/3 cup sugar
1/3 cup butter, softened
2 eggs
1 1/2 cups mashed very ripe bananas (3 medium)
1/4 cup buttermilk
1 teaspoon gluten-free vanilla
2 cups Betty Crocker™ All-Purpose Gluten Free Rice Flour Blend
1 teaspoon baking soda
1/2 teaspoon salt
1/2 cup chopped walnuts, if desired
Directions:
Heat oven to 350°F. Grease bottom only of 9×5- or 8×4-inch loaf pan.
In large bowl, beat sugar and butter with electric mixer on medium speed until light. Add eggs; beat well. Stir in bananas, buttermilk and vanilla; blend well. Stir in flour, baking soda and salt just until moistened. Stir in walnuts. Pour into pan.
Bake 50 to 60 minutes or until toothpick inserted in center comes out clean. Cool 5 minutes in pan on cooling rack.
Loosen sides of loaf from pan; remove from pan, and place top side up on cooling rack. Cool completely, 1 to 2 hours, before slicing. Wrap tightly, and store at room temperature up to 4 days, or refrigerate.
Recipe: Betty Crocker™