It's that time of year again…
The holidays bring an abundance of joy through family gatherings, gift exchanges and of course sweet treats! As you buckle your chinstrap to brave the grocery store this week remember to plan, plan, plan – this will make your shopping trip easier and less stressful.
Remember that people living with Celiac disease or gluten intolerance also like to partake in the sweetness holidays bring, remember to have a gluten-free safe dessert everyone can enjoy, for instance poached pears, baked apples, rice pudding, ice cream or sorbet and flourless chocolate cake just to name a few!
Holiday Traditions…
As families grow new traditions and even new foods may be introduced. This Christmas Eve I'm looking forward to the variety of fresh fish I'll enjoy at my in-law's home, while I wait in anticipation to roll up my sleeves and start cooking at my parents' home on Christmas Day. I most enjoy cultural favorites such as empanada as well some delicious appetizers like prosciutto, cheese, pigs in a blanket and raw veggies with dip! Don't forget dessert, this year I'm preparing a decadent dark chocolate Bundt cake served with fresh strawberries.
Check out this elegant appetizer and side dish to get your shopping list ready…
---
Cranberry & Cilantro Quinoa Salad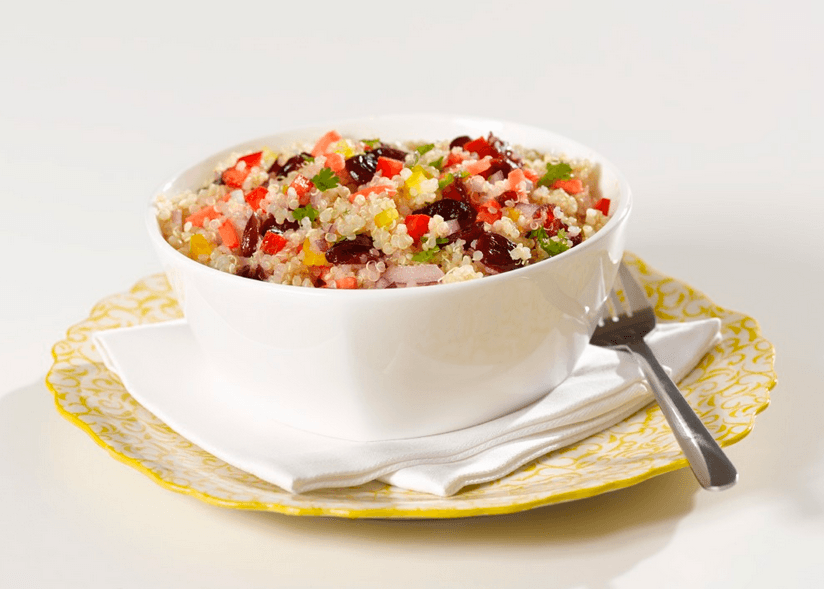 Makes: 8 servings
Ingredients
2 cups water
Pinch of salt
1 cup quinoa, rinsed
1 cup dried cranberries
½ cup minced carrots
½ cup chopped red bell pepper
½ cup chopped yellow bell pepper
3 Tbsp. finely chopped red onion
3 Tbsp. minced fresh cilantro
3 Tbsp. fresh lime juice
1 Tbsp. vegetable oil
¼ tsp. salt
Pinch ground red pepper
Directions
In a small sauce pan, bring water and pinch of salt to a boil over high heat; stir in quinoa, reduce heat and bring to a low simmer. Cover pot and cook until all liquid is absorbed (about 13 minutes).
Remove from heat and transfer to a medium bowl. Cool to room temperature. Cover and refrigerate until ready to use.
To the bowl of quinoa, stir in cranberries, carrots, red and yellow peppers, red onion and cilantro until mixed.
In a small bowl, mix together lime juice, oil, salt and ground red pepper and pour over quinoa-cranberry mixture; toss to coat evenly. Cover and refrigerate at least 2 hours before serving. Does not have to be served cold.
Nutrition Information Per Serving: Calories 150, Calories from Fat 30, Saturated Fat 0g, Trans Fat 0g, Total Fat 3.5g, Cholesterol 0mg, Sodium 115mg, Total Carbohydrate 29g, Sugars 11g, Dietary Fiber 3g, Protein 3g, Vitamin A 40%, Vitamin C 45%, Calcium 2%, Iron 6%
---
Gorgonzola-Crusted Beef Tenderloin Crostini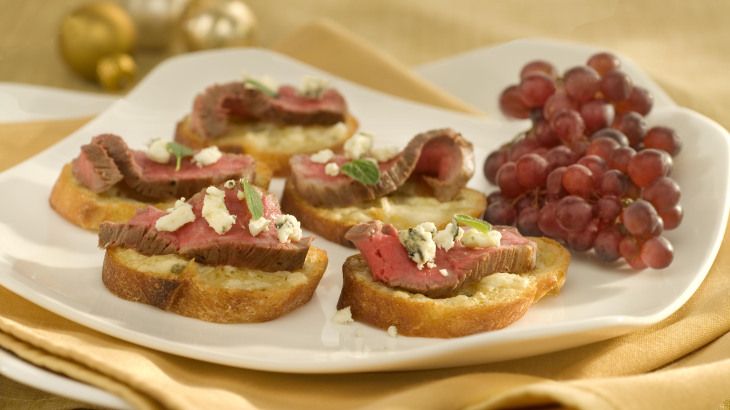 Tip: Make it gluten-free simply by substituting gluten-free baguette
Makes: 32 appetizers
Prep Time: 15 minutes     Cook Time: 15 minutes
Ingredients:
1 pound beef tenderloin, cut lengthwise into 3 pieces
6 Tbsp. I Can't Believe It's Not Butter!® Spread, divided
1/4 cup crumbled gorgonzola or blue cheese
1 clove garlic, finely chopped
1 loaf French bread, cut into 32 slices (about 1/2 inch thick)
Directions:
Season beef, if desired, with salt and ground black pepper. Melt 2 tablespoons I Can't Believe It's Not Butter!® Spread in 12-inch nonstick oven-proof skillet over medium-high heat and cook beef, turning occasionally, 5 minutes or until almost done.
Remove beef and let stand covered 10 minutes.
Preheat oven to 425°. Spray baking sheet with nonstick cooking spray; set aside.
Combine remaining 4 tablespoons Spread, cheese and garlic in small bowl. Evenly spread on bread. Arrange bread on prepared baking sheet. Bake 8 minutes or until toasted.
Thinly slice beef and arrange on toasts. Top, if desired, with additional cheese. Bake 1 minute or until warm.
TIME SAVING TIP: Prepare beef and crostini cheese toasts 1 day ahead. Slice beef, assemble and warm in oven just before serving.
Nutrition Information per appetizer: Calories 170, Calories From Fat 50, Saturated Fat 2g, Trans Fat 0g, Total Fat 6g, Cholesterol 20mg, Sodium 220mg, Total Carbohydrate 19g, Sugars 1g, Dietary Fiber 1g, Protein 11g, Vitamin A 4%, Vitamin C 4%, Calcium 4%, Iron 10%