Healthy Ways to Detox after Thanksgiving
By: Jacqueline Gomes, RDN, MBA
Your Thanksgiving meal is nothing but a distant memory today; on average we consume 4,500 calories from this one meal alone! Between the appetizers, alcohol, main dish and desserts my guess is you aren't feeling great.
Our liver, kidneys and lungs do a great job of detoxifying our bodies from harmful toxins and pollutants; today is about getting rid of the bloated, full feeling you have from overeating. So here we go!
Post-Holiday Detox…
Drink Water: lots of it, to the tune of one gallon.
Exercise: Don't delay; don't think about it, just do it. Exercise is completely underrated during the holidays. It's the best way to control your weight alone with portion control on "non-holiday" days.  Physical activity is also a great way to control stress and anxiety during the holiday season.
Eat healthy: Focus on fresh foods such as fruits, vegetables, lean protein (white meat turkey) and whole grains. Eat like this on a regular basis and you'll find that days like Thanksgiving, Hanukah and Christmas may have no affect on your weight at all.
Post-Thanksgiving Meal Quick Tip: Create a flavorful and festive Turkey stir-fry. Simply combine sautéed fresh mixed vegetables with left over turkey breast and serve with a small portion of left over plain sweet potatoes.
Healthy Leftover Turkey Ideas:
Turkey & White Bean Soup
Turkey Veggie Stir-fry
Turkey Chili
Turkey Frittata
Turkey and cranberry stuffed sweet potatoes
Turkey over mixed greens
Turkey & grilled veggies on whole grain bread
 
Shop online or find your nearest Foodtown grocery store to stock up on everything you need for the week. Be sure to download our mobile app to take advantage of ongoing savings!
---
Turkey & White Bean Soup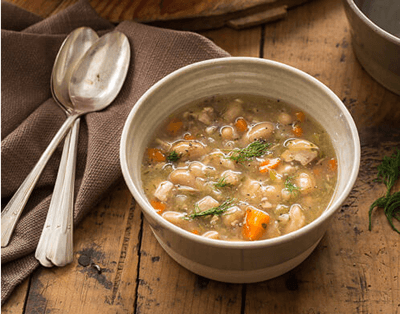 Makes: 8 (1 cup) Servings
Ingredients:
1 tablespoon canola oil
2 cups diced yellow onion (about 2 medium)
1 1/2 tablespoons chili powder
1 tablespoon minced garlic
1 1/2 teaspoons ground cumin
1 teaspoon dried oregano
3 (15.8-ounce) cans Great Northern beans, rinsed and drained
4 cups fat-free, less-sodium chicken broth
3 cups chopped cooked turkey
1/2 cup diced seeded plum tomato (about 1)
1/3 cup chopped fresh cilantro
2 tablespoons fresh lime juice
1/2 teaspoon salt
1/2 teaspoon freshly ground black pepper
8 lime wedges (optional)
Directions:
Heat oil in a large Dutch oven over medium-high heat. Add onion; sauté 10 minutes or until tender and golden. Add chili powder, garlic, and cumin; sauté for 2 minutes. Add oregano and beans; cook for 30 seconds. Add broth; bring to a simmer. Cook 20 minutes.
Place 2 cups of bean mixture in a blender or food processor, and process until smooth. Return pureed mixture to pan. Add turkey, and cook 5 minutes or until thoroughly heated. Remove from heat. Add diced tomato, chopped cilantro, lime juice, salt, and pepper, stirring well. Garnish with lime wedges, if desired.