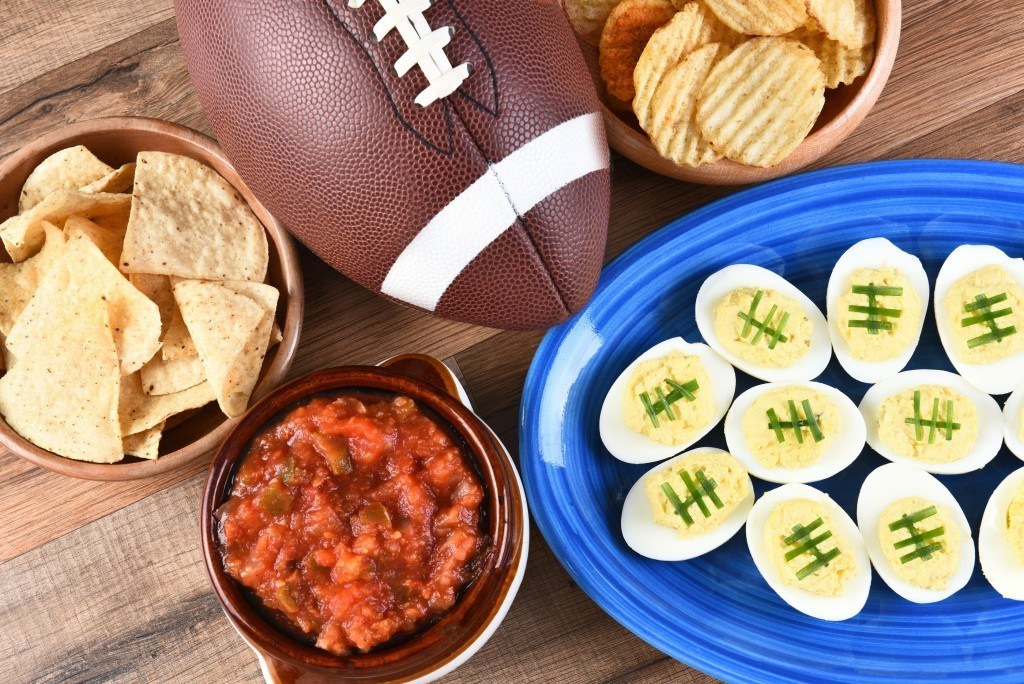 Whether you're tailing at the Big Game or hosting the ever so anticipated Big Game Party, you can keep your team satisfied with better-for-you treats that are tasty too!
Bite size finger food is a great way to go – not only does it control portions, but it's easy for guests to eat, whether they're standing or crashing on the couch. Think Panini's, mini turkey sliders, chicken kebabs, baked chicken empanadas, raw carrots & celery with guacamole… the list goes on and on. By keeping a balance of healthy foods, like raw veggies and chicken skewers, with more indulgent options, like chicken wings and pizza, your guests will feel energized and satisfied – now that's a win-win!
Tips for Dips: Dips don't have to be loaded with unhealthy fats; choose hummus, guacamole, salsa and bean dip. If your dip calls for cream cheese or sour cream, choose lower fat versions or use low fat Greek yogurt as a replacement for sour cream – pair with raw veggies, whole grain crackers and baked corn chips.
---
Turkey & Pinto Bean Burrito Bites
We created this with leftover turkey in mind. Leftover or rotisserie chicken can also be used. Make it a Meal: Serve with guacamole and chopped jalapeno peppers and/or hot sauce. Cutting into bite sized rounds makes it ideal for a party!
6 servings
Total time: 40 minutes
Ingredients:
1 tablespoon canola oil
1 medium onion, halved and sliced
2 cloves garlic, minced
1 tablespoon ground cumin
1 teaspoon chile powder
1 15-ounce can diced tomatoes with green chiles
2 tablespoons lime juice
4 cups shredded cooked turkey or chicken
1 15-ounce can pinto beans, rinsed
6 10-inch whole-wheat flour tortillas or wraps, warmed (see Tip)
3/4 cup grated Monterey or pepper Jack cheese
2 cups shredded green cabbage
Preparation:
Heat oil in a large saucepan over medium heat. Add onion and cook, stirring, until softened, about 2 minutes. Stir in garlic, cumin and chile powder and cook for 30 seconds.
Add tomatoes and lime juice; bring to a boil. Reduce heat to a simmer and cook until the onions are very soft, 16 to 20 minutes. Stir in turkey (or chicken) and beans and continue cooking until the mixture is heated through, 3 to 5 minutes more.
Divide the turkey-bean mixture among tortillas (or wraps). Top each with cheese and cabbage, roll into burritos and cut into 1-inch slices, place a toothpick through tortilla to hold wrap and serve.
Exchanges: 2 starch, 1 vegetable, 4 lean meat
Tips & Notes:
Make Ahead Tip: Prepare the filling (Step 1), cover and refrigerate for up to 2 days.
To warm tortillas: Wrap in foil and bake at 300°F until steaming, or wrap in barely damp paper towels and microwave on High for 30 to 45 seconds.
---
Bell-Pepper Chicken Skewers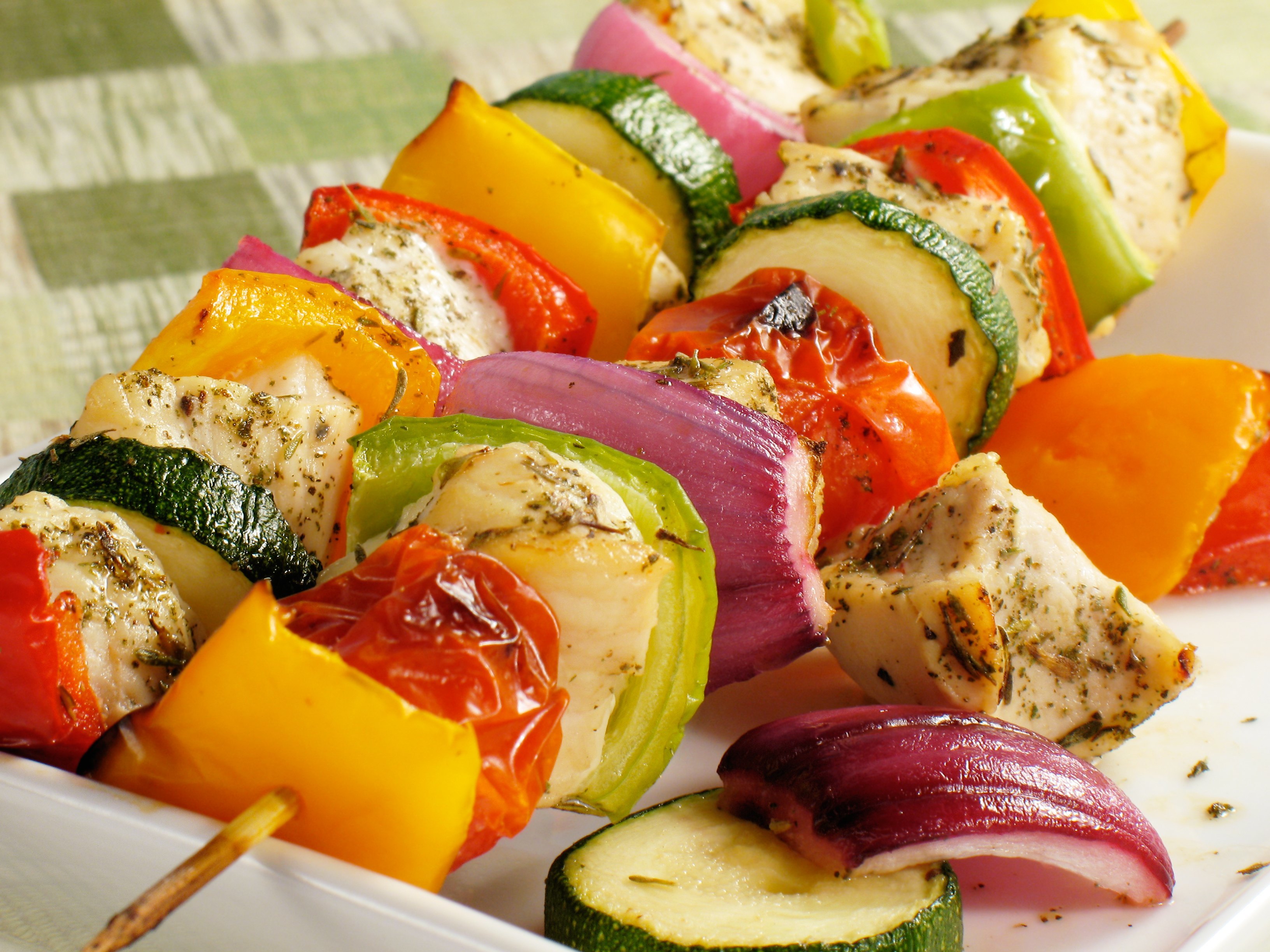 Makes 24 Skewers
Ingredients:
Directions:
Place chicken in a resealable plastic bag; add salad dressing, red pepper flakes and fennel seed. Seal bag; refrigerate for at least one hour or overnight to marinate.
Thread pork, peppers and onion on skewers. Discard marinade.
Place kebabs on a greased broiler pan and broil 5 inches from heat, or grill over medium-hot coals, for about 5 minutes per side.
Tailgate Tip: If tailgating at the stadium, thread pork and vegetables on skewers at home, and store in plastic containers in a portable cooler until ready to grill.