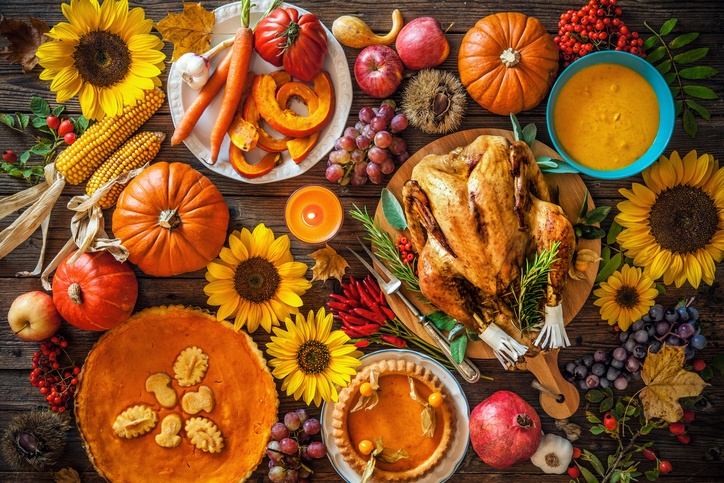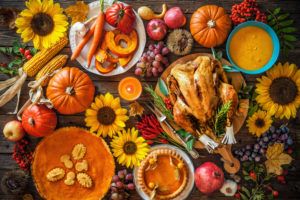 November brings thoughts of fall colors, warm hearty foods, and cozy nights by the fire. It also reminds us that a bountiful Thanksgiving awaits us!
The holidays don't have to mean over-indulgence or the end of your efforts towards a healthier lifestyle. Try including some of the following delicious foods in your holiday cooking.
Healthy Thanksgiving Menus Ideas
Add Nutrition to Stuffing and Side dishes: Mix in celery, onions, mushrooms, carrots, beans and even raisins and apples to boost fiber and flavor. See Recipe below!
Turkey: White meat is the leanest and dark has a higher fat content. Go easy on gravy!
Cranberry Sauce – Go natural! Fresh Cranberry sauce is a cinch to prepare, has a much fresher and delicious flavor.
Lighten-up! Use lower fat versions of sour cream, substitute plain yogurt in creamy dips and mashed potatoes. Try olive or canola oil instead of butter for a heart healthier fat option.
Vegetarian delights – with more than seven million vegetarians nationwide, it's likely you'll have a vegetarian guest. Combine grains like quinoa, amaranth, millet and barley with bell peppers, apples, dried apricots and nuts for a dish all of your guests will want to try.
---
Wild Rice Stuffing
Serves: 6
Prep time: 5 minutes
Total time: 45 minutes
Ingredients:
2 cups wild rice
Vegetable Broth
½ cup carrot, grated
1 teaspoon grated ginger
¼ cup pecans, crushed
12 dried apricots, sliced thin
1 orange, juiced and zest
1 tablespoon olive oil
Directions:
Heat a large pot over medium heat. Add 1 Tbsp olive oil and add grated carrot. Cook for 2-3 minutes.
Meanwhile, bring 6 cups of Vegetable broth to a boil. Add rice to pot with carrot and then add broth. Cook wild rice as directed on the box. About half way through the cook time, add ginger and apricots to the rice and stir.
Allow to cool down for five minutes, add pecans, orange juice and zest, stir and serve.
---
Fresh Cranberry Sauce
Ingredients:
1 cup sugar
1 cup water
1 (12-ounce) package Fresh Cranberries
Directions:
Combine sugar and water in a medium saucepan. Bring to boil; add cranberries, return to boil. Reduce heat and boil gently for 10 minutes, stirring occasionally. Cover and cool completely at room temperature. Refrigerate until serving time. Makes 2 1/4 cups.
Tips:
Freshen up the flvor by using orange juice instead of water.
You can reduce the sugar if you prefer a more tart sauce
I have added a ½ cup pineapple chunks once the sauce is cold, its delicious!