5 Easy to Eat Well Tips for the New Year
It's a New Year and a new day; relax and enjoy the day. You may be thinking about resolutions or going back to work after a few days off. What ever you decide remember to appreciate all the good that has come into your life and enjoy the thought over a delicious healthy meal with loved ones.
As you plan for the year ahead, whether it's managing your weight, taking better care of your heart or simply drinking more water, every start is a good start.
7 Tips to Successful New Year…
 Eat breakfast daily. People who eat breakfast are more successful at losing weight and sticking to a diet.

 Add just one fruit or veggie or veggie serving daily. Once you're comfortable, add an extra serving until you reach 8 to 10 a day.

Plan to eat healthier. Focus on planning healthy foods and activities rather than framing your diet around things you should not have. Starting with a shopping list and weekly plan of meal prep is a great place to start.

Get some sleep! Lack of sleep can increase hunger and affect the body's metabolism, which may make it difficult to maintain weight loss or lose weight.

Resolve to exercise more often. Sneak in three 10-minute sessions if you can't fit in all 30 minutes at one time –look for opportunities to be more active!

Aim to spend less. You don't have to ditch your shopping addiction completely; instead, work out a budget and vow to browse the sale racks. Pack lunches often and limit dining out to two to three times a week.

Will to give more of your time. Gather a group of work pals or some of your best friends to participate in a fundraiser or volunteer at a soup kitchen. It is much easier to commit when you have partners by your side. 
Wishing you the happiest and best this year can offer.
---
Caramelized Apple Salad with Grilled Chicken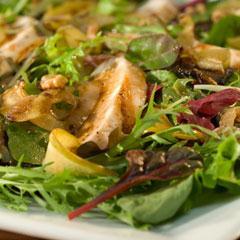 2 servings
Prep Time: 20 minutes Cook Time: 25 minutes
Ingredients:
2 Tbsp. I Can't Believe It's Not Butter!® Spread

1 large Granny Smith or other tart apple, peeled, cored and thinly sliced

1 large onion, sliced

2 boneless, skinless chicken breast halves (about 8 oz.), grilled or broiled

4 cups mixed salad greens or mesclun

1/4 cup Wish-Bone® Balsamic Vinaigrette Dressing

1/2 cup toasted chopped walnuts or pecans (optional)
Directions:
Melt I Can't Believe It's Not Butter!® Spread in 12-inch skillet over medium-high heat and cook apple and onion, stirring occasionally, 4 minutes or until tender. Reduce heat to medium and cook uncovered, stirring occasionally, 20 minutes or until apple and onions are golden brown.

Meanwhile, slice chicken and keep warm. Spoon warm apple mixture over greens, then top with chicken. Drizzle with Dressing and garnish with walnuts.
Nutrition Information per serving:
Calories 550, Calories From Fat 320, Saturated Fat 5g, Trans Fat 0g, Total Fat 36g, Cholesterol 75mg, Sodium 550mg, Total Carbohydrate 32g, Sugars 20g, Dietary Fiber 9g, Protein 29g, Vitamin A 90%, Vitamin C 20%, Calcium 6%, Iron 15%